Innovator of the Week
Dave Ramsay
Founder of Azurepath
Please provide your 30-second pitch about your company.
Azurepath is a modern cloud-based application that automates lead management, sales performance tracking, and cash forecasting via a user and mobile-friendly interface.
Leads are managed in a real-time visual queue that eliminates the need for tasks and calendars. Automated sales performance trends and insights eliminate the need for manually generating reports. Automated and accurate cash forecasting eliminates worry when making key business decisions.
Who or what was your best resource for starting your company?
The best resource for starting Azurepath was perspective. Having run a sales team initially and then a growing company, I realized very quickly that our CRM (customer relationship management) software did a suitable job for the sales team but did little for the finance or executive teams.
Our CRM was a black hole with a tremendous amount of data going in and few insights escaping to help us with key business decisions. This experience and frustration was the driving force behind the creation of Azurepath.
What was your biggest obstacle in starting your company and how did you overcome it?
Time. Designing and building a product when you only have early mornings and weekends available requires patience and discipline. Sometimes I had both, other times I had neither. I found that breaking down larger milestones into smaller, achievable tasks kept momentum going and allowed the 1-2 hours of work I had available on any particular day to feel more productive.
When the development team was hung up on an issue or moving slower than anticipated, I'd focus on something else that still felt productive like building out the website or researching marketing opportunities. Using this approach allowed us to see a possible launch date on the horizon and that's all you really need. Once the finish line is in sight, the team gets a boost of energy and the final stretch goes by quickly.
What's the best advice you have received?
Reading a free book called Getting Real. It was written by founders of Basecamp. Basecamp is a very successful, web-based project management software product that received an investment from Amazon.
The concepts in the book revolve around building applications faster and smarter. With chapters such as: "Less Mass – The leaner you are, the easier it is to change",  "Build Less – Underdo your competition", and "Start With No – Make features work hard to be implemented", it's a no nonsense book that helps guide your decisions and reminds you that you're very much in control of how complex you make your initial product launch.
What about the NH lifestyle appeals to you?
Just about everything besides shoveling. It's a beautiful state with many year round outdoor activities to choose from. It's also a great place to raise a family.
What does the future look like for your company?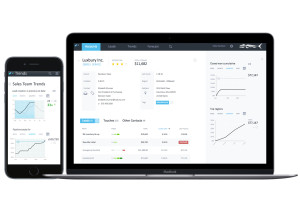 Azurepath is in the process of building brand awareness and its user base. Having launched only a few months ago we've been excited to secure several hundred free trial sign-ups and our first batch of paying customers.
We're convinced we're on to something now and just need to focus on growth. Next up is The Next Web Conference in Amsterdam as Azurepath was selected for their Boost Program. We also plan on getting to know the New Hampshire startup scene better by tapping into great resources such as Alpha Loft and the SBDC.
Connect with Azurepath on Twitter!
Connect with David Ramsay on LinkedIn!
If you like this content, please share!