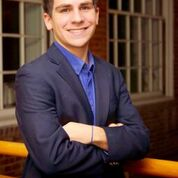 Innovator of the Week
Terren H. Klein
Co-founder of Pulse

30-second pitch about your company.
Pulse is a community-based survey platform that is re-envisioning the way organizations collect public opinion. Beginning with universities, like Dartmouth College, our platform has achieved an average response rate that is 6X that of competing survey software at a fraction of the cost. We achieve our high levels of engagement by incentivizing students with our interactive results and built-in reward system. In the coming months, we plan to roll out to high schools and universities that have requested to pilot Pulse, including Proctor Academy, here in NH, and Harvard University.
Who or what was your best resource for starting your company?
The Dartmouth community has provided me with an incredible support network to grow Pulse. From researching survey methodology with Government professors over this past year to finding my technical cofounder, Robin, to working with a team of student developers provided by DALI (Digital Arts, Leadership, & Innovation Lab), I am extremely grateful for all the support. I've also received generous funding from the Dartmouth Entrepreneur Network, the Office of the President, Student Government, and the Rockefeller Center for Public Policy. I'm also grateful for the support that has come from organizations outside of the Dartmouth community, including the Stamps Foundation and Alpha Loft Accelerator.
What was your biggest obstacle in starting your company and how did you overcome it?
Surprisingly, even after running more than a hundred surveys over a 16-week period, our primary obstacle is generating enough content to meet the student demand. Though I knew that Pulse could remove major pain points from the survey-taking process, I did not foresee it transforming the activity into something that students actively seek out to do in their free time. So our current challenge is to make sure that every time a student logs into the platform, there is a new survey waiting for them.
The first part of the solution involves reshaping the college administrator's perception of surveys. Typically, colleges field long surveys at the end of terms to capture the retrospective opinions of their students. We, however, encourage colleges to field shorter surveys throughout the term in order to capture student opinion in the moment. This shift would not only result in more surveys for students, but also more accurate data.
The second part of the solution is to allow students to post questions themselves. Not only would this resolve our survey shortage, user-generated content can also lead to questions that are more relevant to the student as compared to those asked by the administration. This new system would allow the administration to passively collect valuable data from the student body, without the effort of fielding a survey themselves.
What's the best advice you have received?
You have nothing to fear from truth. I learned this valuable lesson during my internship at Bridgewater Associates. During the process of building a company, some truths can very be painful to learn, from finding out that users dislike your new feature to confronting personal weaknesses. However, by being truthful and encouraging those around me to be completely truthful, I am exposed to the feedback that is essential for the company's ultimate success.
What about the NH lifestyle appeals to you?
From a surveyor's perspective, I appreciate that New Hampshire, as "first in the nation", has been exposed to and understands the value of good public opinion collection. And from an entrepreneur's perspective, I find the emphasis NH places on community to be inspiring. Pulse would not be a success without the ongoing support we receive from local businesses, schools and community members.
What does the future look like for your company?
It is our mission to re-envision the way all organizations collect community opinion. So our first step is to replicate the success we've had at Dartmouth at the other Ivy Leagues, beginning with Harvard University. We expect to run the first inter-ivy survey at the beginning of the 2017-18 school year. Simultaneously, we will be expanding to include high schools, beginning with those in New Hampshire. In the longer term, we will grow the platform to include businesses, interest-based user groups, local governments, and any other organizations rely on internal surveys.
Who is on your team?
Our founding team consists of myself and my technical co-founder Robin. Between us, we have experience working for companies including, Palantir, Bridgewater Associates, a venture-backed startup and a DC polling firm. And for the past year I've been researching emerging survey technologies for my culminating research project at Dartmouth. Our mentors include Matt Rightmire, the managing director of Borealis Ventures and Benjamin Valentino, Government Professor and public opinion expert at Dartmouth. We also have a team of seven dedicated
Dartmouth students helping us develop the platform.
Terren Klein '17, Co-founder: Originally from Edgemont, New York, Terren Klein (D'17) is a Government major. His academic interests include statistics, political theory, and public opinion polling. He is currently pursuing an honors thesis in the Government department studying the use of smartphones in survey research. This past year, he researched Jewish scholarship on Islam in the 19th century as a James Freedman Presidential Scholar. Since his Freshman year, Terren has been involved with the Tucker Center—Dartmouth's Center for Spiritual and Ethical Living—and served as a Student Director in charge of new programming during his Junior year. Outside of Dartmouth, Terren has worked for the US Embassy in Argentina, the Office of US Senator Jeanne Shaheen, Public Religion Research Institute, and Bridgewater Associates.
What impact will the platform have on college campuses
This platform will change the way our campus conducts its discourse and decisions are made. It will mitigate the harmful polarization of opinions that distracts us from achieving our common goals. And it will equip all members of the community with a much-needed resource to effect meaningful, data-driven change on their own.
What's the problem you are trying to solve?
There is no reliable source of public opinion on college campuses, leaving both students and administrators in the dark as to what students really think. Community members are forced to speculate or turn to anonymous opinion platforms that provide only polarized distortions of public opinion. The official method to conduct campus research relies on surveys that are inaccessible to the student body and often irrelevant to issues of campus climate. These surveys, like the 2015 Dartmouth College Sexual Assault and Misconduct Survey, can cost well over $10,000 between licensing and incentivizing. Finally, the response rate for both institutional researchers and student leaders is increasingly low, and once the information is gathered, it often exists in a silo where it cannot be combined with other survey results. In short, the central challenge for Pulse is to overcome this negative perception of survey taking and to design a new opinion-sharing process in which students find meaning and even take pleasure.
What your solution?
Core to our solution is building a platform that cultivates transparency around data. In addition to rewarding the student with gift cards of their choice after completing the survey, the platform allows students to interact and breakdown the results by various demographics upon completing a survey. Unlike existing survey platforms, this model allows students to learn about their community and see how their own opinions stack up amongst those of their peers on a variety of campus issues. The platform also allows the students to suggest survey topics and questions to ensure that the most relevant questions are being asked.
And from a data collection standpoint, the benefits of having a centralized platform goes beyond increased response rate. By moving away from the current one-off model of survey platforms, our centralized platform allows for extensive cross-referencing between surveys leading to increasingly comprehensive data analysis over time.
How it works
The user logs in with their college netID and select the poll that they wish to take. Upon completing a poll, community members may visualize and filter the data by various demographics directly on the platform. Unlike existing survey platforms, students receive points for every survey they complete. These points may be cashed in for rewards of the student's choice, anything from free pizza to lunch with a favorite professor. Every poll is recorded on the student's profile, leading to increasingly comprehensive data and cross-referencing between polls. Poll administrators are able to target their sample based off of demographic information or answers to previous polls.
What's your story? How'd you get started?
After a campus-wide protest at Dartmouth College in the Winter of 2015, the campus felt utterly divided. Students sought to make sense of what had taken place, what they believed, and whether their opinions aligned with those of the larger community. With no reliable opinion platform available, administrators and students alike were forced to speculate or turn to polarizing opinion platforms, such as Yik Yak, to assess the campus climate. Inspired by these events, our founders, Terren and Robin, set out to create a student-centered opinion platform to fill this informational void.
What are your company's beliefs?
You have a right to access accurate data about what your community thinks about important issues.
The free and open sharing of opinions helps communities identify and solve problems better.
Distorted perceptions of public opinion are a major impediment for community progress.
Traditional online survey tools are incapable of capturing the ever-changing nature of public opinion.
Connect with Terren on LinkedIn.  Connect with Robin on LinkedIn.  Connect with Pulse on Facebook.
If you like this content, please share!