Relocate: Inspire Your People. Draw In Your Clients. Fit Your Community. Tell a Story. – Featuring Heather Lavoie
You've made the decision and are ready to pack your bags. You and your company are going to relocate. Before you hit the road, here are 5 things to consider from a business leader who is brushing away the dust of one relocation journey while embarking on another.
We first introduced Heather Staples Lavoie in June of 2015 when she and her company, Geneia, were establishing a new location in New Hampshire. Geneia is a dynamic organization of people who have dedicated their careers to transforming healthcare through innovative technology, clinical support, training and educational services. Everyone at Geneia is passionate about transforming healthcare, and this passion for improving lives shines through Heather, their Chief Strategy Officer.
Like many companies with start-up origins, Geneia was once just a few offices tucked away within a larger company. Today, with more than 250 employees, Geneia's need for physical space has changed. Plans are underway for a new building for their Pennsylvania employees, while the New Hampshire employees just moved into a recently renovated, stunning top-floor location in Manchester's historic Amoskeag Millyard.
The process of successfully relocating employees and creating physical workspaces that reflect corporate culture has been top of mind for Heather lately. We asked her for a few tips to help other leaders successfully relocate their organizations:
#1:  Put your People First. Foster Employee Well Being.
As with everything, Heather's focus is on the people and how to improve their lives through a necessary transitional process.  She states,
"You cannot underestimate the stress the fear of change places on employees."
Change is difficult for people, even when they know that it is the right thing, the best thing and is unavoidable. This stress can negatively impact their productivity, happiness and even desire to stay with the organization, if not handled in a proactive and compassionate way.
She suggests frequent employee meetings to share the relocation process with everyone, so people can understand the impact the move will have on them, and to help them get excited and reduce their stress. Geneia leaders invited employees to share their own design ideas, test drive new office furniture such as desks, chairs and couches, and view mock-ups of suggested workspaces, building site and grounds.
When relocating employees, providing parity between the building they are leaving and the one they are going to is critical. Leaders should closely examine what amenities everyone currently enjoys and strive for parity in the new space. For Geneia's Pennsylvania employees, this included creating a state-of-the art gym, cafeteria and walking paths.
#2 Design to be Inspiring. Encourage Innovation & Collaboration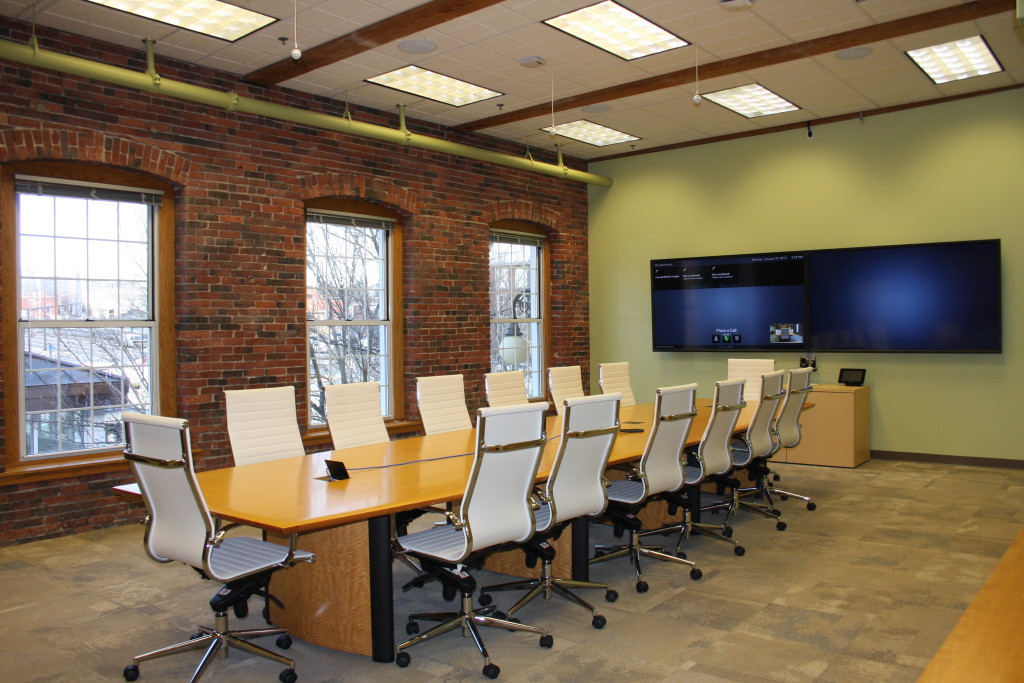 "As an organization built on innovation and transformation, we were determined to create physical spaces that reflect and encourage that foundational belief. No grey walls and no closed-off offices.  Ever."
An organization's physical space reflects, inspires and supports its corporate culture. For Geneia, that translated into a space with lots of natural light, views, and glass, shared across the floorplan and accessible to everyone. A variety of workspaces, equipped with leading-edge video conferencing further supports creativity, innovation and collaboration across their distributed workforce. The Manchester location features enclaves, team rooms, conference rooms and stand up work options to encourage movement, stretching, and energizing throughout the day. Employees are looking forward to warmer weather so they can take their work outdoors to the park benches and grassy areas between their building and the river.
#3. Consider your Surroundings. 
Geneia wanted to be part of a technological hub – close to like-minded people and close to the next generation of innovators who will continue to drive healthcare reform. With UNH's varied degrees in Analytics and Information Technology and the plethora of technology firms in the Millyard and scattered throughout Manchester, the urban setting met this criteria.
#4) Accessibility.
When thinking about a new space, consider client needs and accessibility. For example, between Geneia's distributed workforce and national client base, it was critical that the location be within a taxi ride of the airport.  Suitable overnight accommodations along with a variety of nearby dining options were also important and increased the chances for the millyard location.
#5) Tell a Story.
Heather states, "We feel a connection with the historical past of Manchester's position as the former global leader in textiles; and a deep connection between the science and art of the automated Jacquard loom and the science and art of the algorithms we develop."
She's not kidding, nor is she the first person to compare algorithms to weaving. Soon to be hanging in their Manchester office is a historical photograph featuring the Jacquard loom as it was used in the Amoskeag textiles, along with a quote from the should-be famous computational pioneer, Ada Lovelace, who developed the world's first algorithm that was carried out by machine back in 1843:
"The Analytical Engine weaves algebraic patterns, just as the Jacquard loom weaves flowers and leaves."
Heather continues, "Having a story to tell that connects your physical location to your vision of the future is highly engaging for both employees and customers. Our clients love the story, the connection, and hopefully see – in a concrete way — how deliberate our decisions are in everything that we do."
To learn more about Geneia, visit geneia.com or connect with us on Twitter and LinkedIn.
If you like this content, please share!