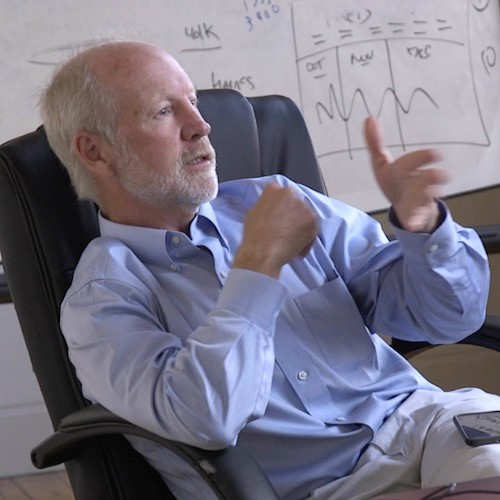 THE STARTING POINT
Dave Arnold's background as a civil engineer laid the foundation for his blockbuster career in software technology.  After graduating from New England College in Henniker, Dave worked for big firms on big projects- from treatment plants to highway design.  But it was his decision to be adventurous and work overseas that positioned Dave Arnold for success. In 1979 Dave took a job as a junior engineer, building an airbase in Israel. He was one of the youngest guys on the crew.  Dave says, "Two years of 75+ hour weeks, hunkering down at night reading engineering books and pushing myself to learn as much as I could, was the best thing I could have done at that point in my career.  It enabled me to bank most of my pay, close out my student loans, and earn the respect of people who gave me responsibility on the project."
After receiving a Masters in Engineering from UNH, Dave eventually began consulting where he spent a lot of time drafting.  He quickly realized the software available did not have the features he needed.  So he started writing programs.  Word got out to other local engineers and surveyors that Dave had created some useful programs that could save them a lot of time.  Suddenly, Dave Arnold was in the software business. The journey was entirely organic. The endpoint – unexpected. But it worked.
THE BIG BREAK
"I do think I was in the right place at the right time… but my intensive hands-on engineering experience in the Middle East coupled with my desire to learn computer programming allowed me to see a need in the building industry."  Dave Arnold's company, Softdesk, became the largest PC based civil engineering software in the world.  He took it public in 1994 and Autodesk acquired the company in '97.
In 1995 he was recognized as NH Entrepreneur of the Year.
AHA MOMENT
An attempt at retirement at age 44 didn't work for a man who needs intellectual stimulation.  Dave jumped back into the high tech world, building up a knowledge management system where video, the cloud, and mobile technology converge.
Dave Arnold recognized the power of video as a teaching tool in 2004 after he videotaped an algebra lesson for his son, John. Video was a much more effective learning tool than reading text for John. As he watched his son "get it", Dave realized he was looking at the future of learning. But he had to wait years for the technology to catch up:  video, internet speed, cloud storage, and the ubiquity of smart phones.  Dave made a strategic decision to wait and launch the company once those elements aligned.  Dave said, "I had a vision on how we could transform the future of information sharing and video communication.  It's exciting to see the platform we have spent years developing take off. Now people understand the value of indexing video so it's searchable and the importance and convenience of interactive video communication. Our unique approach makes our solutions affordable for companies and consumers."  Retrieve Technologies' knowledge applications were recently honored by the NH High Tech Council as a finalist for the Product of the Year.
After getting an infusion of capital from a private investor, Retrieve Technologies is growing, hiring dozens of employees, and helping businesses use video to communicate better and faster with their employees and customers. "I know what it takes to build a company from the ground up.  I truly believe the platform we have developed will change the way we share knowledge. People are demanding video content and we have spent years developing a software product that capitalizes on mobility and the cloud to deliver video in a way that's convenient and easy to retrieve."
WORDS OF WISDOM
"Be open to change – that's my best advice," says Dave Arnold.  "I am fascinated by innovation and ways to improve anything. It helps to have an eye toward the future."  For new entrepreneurs, Dave compares creating a company to building a sports team.  "It's not enough to have one or two all-stars.  You need eleven strong players."
Dave credits his father with giving him important words of wisdom at a critical time in his career. "I knew engineering and software, but my dad sat me down and tutored me in finance, cash flow, and creating a P & L statement. Those lessons helped me create a successful company and they continue to help me as I grow Retrieve Technologies."
Dave also urges young entrepreneurs to be mindful of where they spend their time and energy: "Put a weight to things. Scale what is most important and don't get caught up in things that are not consequential."
Dave attended college and grad school in NH and raised his family here. He recalls being told that he should move his company to the Route 128 belt of Massachusetts to find good talent.  Dave disagreed.  And now as he's bringing on new employees at Retrieve's Manchester headquarters Dave says, "People want to have challenging opportunities in a beautiful place to live.  It's worked out staying in New Hampshire and building my businesses here.  It's home."
If you like this content, please share!